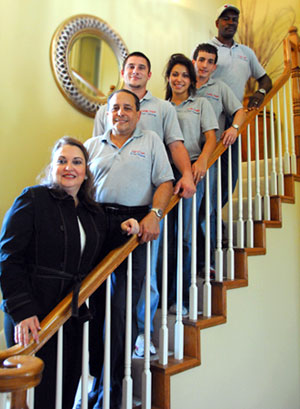 Quality Carpet Cleaning is a certified firm by the Institute of Inspection Cleaning and Restoration. Our services include: Carpet Cleaning, Tile and Grout Cleaning, Water Damage Restoration, Dryer Vent Cleaning, Air Duct Cleaning and Oriental Rug Cleaning. Being a certified firm by the Institute of Inspection Cleaning and Restoration (IICRC) sets our company apart because it requires us to be up to date with the latest trends, standards and equipment in the industry, AFTER THIRTY FOUR YEARS WE HAVE PERFECTED EACH OF OUR  SERVICES.   By continuously being examined by the IICRC we learn to value our work and improve our knowledge and management skills. To show our commitment to always striving to be the best at everything we do; we have traveled to China and Turkey to learn everything related with Oriental rug making and how to clean them properly to keep them looking beautiful.
Quality Carpet Cleaning is also a member of the Better Business Bureau and has been awarded for the last sixteen years the BBB Care Excellence Award having never received a single complaint,. We have been voted the BEST Carpet Cleaning company by Eagle Readers for 6 times.  Our reputation exceeds us because we truly believe in treating others with dignity, honor and fairness. We do things right the first time.
All our employees have been with our company for more than 24 years. We are Aggie owned and operated. To demonstrate our family's commitment the Vilchez family has promoted Maurice Vilchez Jr., Aggie class of '06, to partner. Quality is our recipe to success.
The primary task of human beings is to creatively work at making our lives a remarkable thing of beauty. Whether we are butchers, bakers, or candlestick makers there is always the opportunity to make a truly creative effort of one's life work by pounding out our dents and polishing our already beautiful talents. When we understand that life is the medium and we are the canvas, our efforts to improve become an exciting challenge rather than a boring task.
We are grateful to have the opportunity and the strength to work FOR YOU.
HAPPY NEW YEAR TO ALL OUR CUSTOMERS

Owner
Maurice Vilchez
Proudly serving College Station & Bryan, TX